Coding & Marking Solution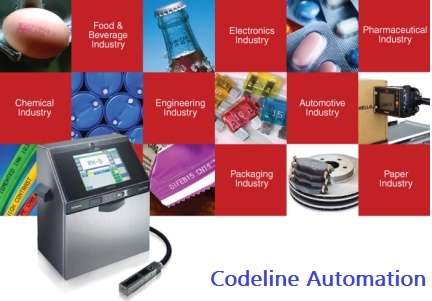 Codeline Automation is a provider of Coding & Marking Solutions.
Printing of MRP,Batch Number, Lot Number, Manufacturing/Expiry Date etc on primary and secondary packaging is becoming a norm to curb counterfeits and track the inventory of products.
This coding can be achieved by contact or non-contact technology. These machines can be integrated in to existing production lines.
CIJ – Continuous Ink Jet Printer are used to print variable information on individual products such as batch number, manufacturing date, expiry date etc. These are non contact printers and can code on porous and non-porous substrate. Ideal where high rate of printing speed is needed.
TIJ – Thermal Ink Jet printers are economical printers. They use standard ink jet cartridges and easy to handle.Can be used to print text, logo and graphics in high quality finish on boxes and cartons.
Drop-On-Demand(DOD) printers are used to code on metal sheets & beams, lumber,cement bags and on secondary packaging. Large characters ( 7mm to 50mm height) can be coded using these printers.